In this lunchtime #WPQuickies, I talk about some plugins to help you create a membership site plus some tips on making it successful.
What Makes A Membership Site?
A membership site has content that is restricted from public access and only viewable by registered members.
There are only a couple of basic conditions to satisfy a membership site:
Registration of members (free or paid)
Offer exclusive content to members only (single or multiple tiers)
What Types Of Membership Sites Can You Create?
Your imagination is the limit with the types of membership sites you can create. Literally anything you think people will find valuable enough to register to get access.
However, here are some common types of membership sites:
Online Learning
Personal Coaching
Private Forums and Communities
Ecommerce Perks (vouchers/discounts)
Premium Niche Content (how to grow orchids the easy way)
Why Build A Membership Site?
Leverage Time
Once you have created content, it can be reused (sold) over and over again without any (much) additional time from yourself.
With automation (emals, chatbots) you can be mostly hands-off from an up-and-running membership site.
The less time you have to personally spend on a membership site the more you can scale.
Value
Humans seem to find more value in things they pay for over and above freebies.
I don't understand the psychology of it but it's a know fact.
People will pay for a gym membership to get fit but they could easily get fit for free at home.
In other words, your paid premium content is perceived as more valuable than free information.
Humans are also increasingly wanting "done for you" stuff. How many groups have you been on where there is a constant stream of "How to …?"
If you are the person who has done that thing, people are willing to pay for the answer rather than figuring it out for themselves.
Tribe
People love hanging around other like minded humans. We're social beasts which is why we've all been hit very hard by the restrictions placed on us during COVID-19.
American entrepreneur, best-selling author, and speaker Seth Godin says this about tribes:

"A tribe is a group of people connected to one another, connected to a leader, and connected to an idea. For millions of years, human beings have been part of one tribe or another. A group needs only two things to be a tribe: a shared interest and a way to communicate."

Seth Godin, Tribes: We Need You to Lead Us
If you can be an appointed tribal leader that will give you trust and authority and your membership will grow.
Membership Site Basic Requirements
OK, what do you need to look for in a membership plugin?
This is not a complete list but rather some of the basic requirements that you will need to run a membership site.
Content Restriction
How does the plugin enable you to restrict content?
Can you restrict the following:
Parts of content
Entire posts and pages
Entire taxonomies (categories or custom taxonomy)
Entire post types
Templates
File downloads
Subscription Levels/Management
Do you need to create multi-tier subscription levels or a single "access all areas" level?
Additionally, can members have one or more subscriptions?
Can they move up and down multi-tier levels automatically?

Payment Options
There are a heap of questions around payment options that you will to consider before choosing your membership plugin.
Which payment gateways are supported?
Do you need coupons and discounts?
Do you need to offer a free trial period?
Can members pay in installments?
What recurring payment frequencies do you need? Monthly, weekly, bi-annually
3rd Party Integrations
Of course you will want to integrate your membership site with third party tools like an email service or CRM.
Maybe even use WooCommerce to handle the subscription payments.
Price
Depending on the features you need the cost of a membership plugin can range from free to upwards of $500 US.
Where To Locate Membership Sites?
Personally I like to have a separate WordPress installation for my membership sites, usually sitting of a courses. subdomain.
My membership sites handle sales and registration so they are a contained silo.
I have had clients who needed to take registration on their main site and then give access to the membership site in another location.
In this instance we synchronised users with a specific role to the courses site using a custom coded plugin, however, you could use a pre-built plugin like WP Remote Users Sync to achieve a similar result.
Membership With Multisite
I was asked about using memberships with multisite and allowing each member to have their own individual site.
This can be done for sure and it's a similar model to some services that use WP multisite to offer template-based site hosting.
You sign up on the main website, choose a domain name and a branded theme and subscription level, then code in the background spins up a multisite, cloned from a template site.
WordPress Multisite offers a unique way of bundling together different resource sites that you could expose through membership levels and groups.
Membership Plugins
Here are my top memebership plugin recommendations.
Restrict Content Pro
Restrict Content Pro is one of my favourite plugins to build a membership site with.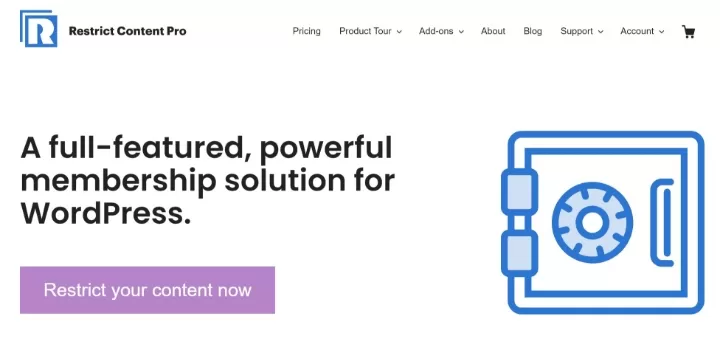 I have set up tens of membership sites with RCP and it's always managed to fulfil client requirements.
It used to be owned by Pippin Williamson who is a great plugin author but the product has recently been acquired by iThemes so I guess we'll have to wait and see what they do with it.
The interface is clean and intuitive.
You can restrict content by taxonomies and post types as well as shortcodes for on-page content restriction.
You can create create subscription levels, including both free and paid levels.
Members can manage their own subscription levels, upgrading and downgrading, although you can turn that off.
It supports PayPal in the lowest offering and Stripe, Authorize.net Braintree and 2Checkout with pro addons.
There are a heap of official and other developer add ons for integration with other systems like Mailchimp, Active Campaign, Convert Kit, WooCommerce, Easy Digital Downloads etc.
Prices range from $99 to $499 per year, depending on which add-on plugins your membership site will need.
Unfortunately the Stripe payment gateway is a pro add-on which means your basic starting price is $249 per year.
MemberPress
MemberPress is a very popular membership site plugin and has a great fanbase with heaps of help and support forums.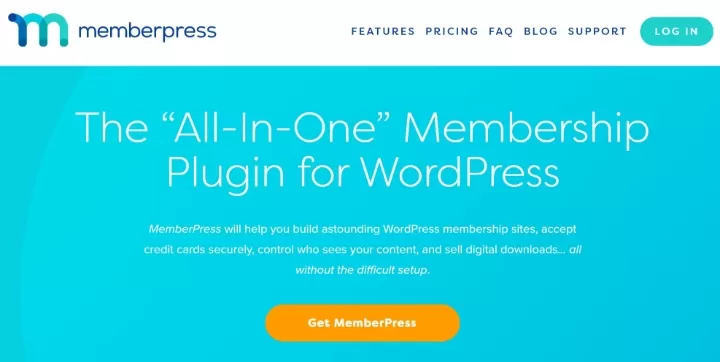 There are a lot of ways you can restrict content with MemberPress:
Categories
Tags
Post types
Child pages
You can also drip content and make content expire after a set time.
MemberPress lets you create unlimited free and paid subscription levels. You can create "tiers" so that members can upgrade and downgrade accordingly.
Group memberships are supported if you are targeting corporate clients.
Payments can be taken with PayPal, Stripe, Authorize.net and offline.
You can offer free trials and give out discount coupons.
There are heaps of integrations supported by MemberPress such as LearnDash, Zapier, bbPress, Mailchimp, Affiliate Royal, etc.
Pricewise, there are three options:
Basic at $149
Plus at $249
Pro at $349
WooCommerce Memberships
As the name suggests, the WooCommerce Memberships plugin allows you to build a membership site directly on top of WooCommerce.
This is an ideal solution if you already have an up-and-running WooCommerce site and are looking to expand into selling memberships.
You can restrict content by:
Categories
Tags
Posts and Pages
Custom Post Types
You can also restrict individual pieces of content, as well as partial content restriction via shortcodes or block settings.
If you have an ecommerce shop, you can also restrict which products are available for purchase.
Content dripping is supported.
You can create unlimited subscription levels and link them to WooCommerce products to control access. That is, when someone purchases a product, they get access to the subscription level. You can also offer free memberships by creating a free product.
Members can have multiple subscription levels but you will need the WooCommerce Subscriptions plugin if you want members to be able to manage their own subscriptions like upgrading and downgrading.
As you would expect with a WooCommerce addon, you have access to all the payment gateways that WooCommerce offers.
You can also offer coupons, discounting rules and free trials/sign-up fees (but only with WooCommerce Subscriptions)
There are no plugin-specific WooCommerce Memberships integrations – that's more to do with the integration WooCommerce supports which are many.
There is a single price offering of $199 USD per year, per site.
Other Membership Plugins
Other comparable membership plugins that I just don't have time to go into today are:
Paid Memberships Pro https://www.paidmembershipspro.com/ Free – $597 per year
Paid Member Subscriptions https://www.cozmoslabs.com/wordpress-paid-member-subscriptions/ $69 – $149 per year
MemberMouse https://membermouse.com/ $39.95 – $299 per month
Members https://wordpress.org/plugins/members/ free
WP Members https://wordpress.org/plugins/wp-members/ Free – $125 per year
S2Member https://s2member.com/ Free – $189 per year
Magic Members https://www.magicmembers.com/ $97 – $207 per year
aMember Pro https://www.amember.com/ $179.95 per year
Conclusion
Personally I have two favourite WordPress membership site setups.
Restrict Content Pro
If I am building a membership site from scratch, this is my go-to setup. RCP does everything with addons to product additional features and connectivity to third-party systems. It is optimised and fast.
WooCommerce + WooCommerce Memberships
If a client already has WooCommerce in place, or has had previous experience with WooCommcerce then I find it's easier to build on top of that knowledge.
#WPQuickies
Join me every Thursday at 1 pm Sydney time for some more WPQuickies – WordPress tips and tricks in thirty minutes or less.
Broadcasting live on YouTube and Facebook.
Suggest a #WPQuickies Topic
If you have an WordPress topic you'd like to see explained in 30 mins or under, fill out the form below.
https://forms.gle/mMWCNd3L2cyDFBA57
Was this article helpful?