It's the height of summer here in Australia and that means 30° temperatures and clear blue skies.
So, being Scottish I have of course moved my development environment out onto the balcony.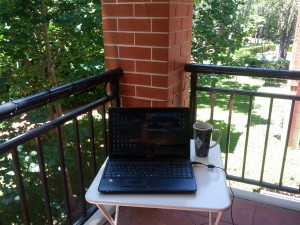 Have you ever noticed how you sometimes 'lose' periods of time when you're watching a film or engrossed in a really good book.  Well, development for me can be like that too.
With PHPStorm open and plugin problems to code, before I knew it over an hour had passed having not noticed the sun slowly creep across the balcony and onto my left foot which is now rather red.  That'll be interesting in the hot shower tomorrow.
As I was liberally applying some SPF 50, it got me thinking about lifestyle.  OK I zoned out for an hour or so but how many hours a day fly by with me doing nothing but sitting in a char in front of my computer.
Developer friends, remember how important it is to get up and do something every so often.  Make it a new year lifestyle thing.
Move around.  Go make a cuppa.  Walk around the block.  I'm off for a swim.
Was this article helpful?