In this lunchtime #WPQuickies, I talk about some plugins to help you manage and sell events within WordPress.
What Type Of Events Are You Running?
Before jumping in feet first and purchasing an event plugin, it's important to ask yourself a few questions about what type of events you are looking to manage.
Are these events for multiple people or one-to-one appointments?
Do you need to sell tickets or just book a time?
Which payment gateways will you need to connect to?
Do you need to display the event location on a map?
Do you need to display a list of speakers?
Are your events recurring?
Can you just get by with a calendar plugin or do u need a fully fledged event plugin?
Thankfully there are a heap of plugin choices to straddle both appointment bookings and event management.
WordPress Event Management Plugins
Let's jump in and have a look at the plugins now.
Amelia
I like the Amelia plugin, not just because I scored a lifetime deal but because of its minimalistic and easy-to-use interface.
It's a relatively new player in the event plugins scene so although the user base is lower than others, it has been built ground-up with modern libraries and does what it does very well.
Amelia can handle appointment booking as well as events and online bookings.
The dashboard UI gives you access to a calendar, appointments, events, employees, services, locations, customers and finances.
I like the employees section where you can specify their work hours, days off and special days so you know when you can assign an appointment or event to them.
This is an all-in-one plugin – a flat fee for all features -which may suit single-person, freelancers or micro-businesses that run on a tight budget.
Costs are $59 AUD per site per year with other price options.
Events Manager Pro
Events Manager Pro
There is a free version of the Events Manager plugin available from the WordPress.org repository, however, if you are looking to manage events, offer coupons and discounts, take payments through multiple gateways and have customisable booking forms, then you will need to purchase the pro version of the plugin.
With over 100,000 active installations, Events Manager Pro is probably the most popular of its type.
The user interface is a bit dated but easy enough to use and it offers a simple front-facing calendar for customer to book events from.
You can integrate the plugin with your iCal and Google Calendar which is useful for native notifications on your phone.
The plugin allows for recurring and multi-day event registrations, along with booking management with approvals and rejections.
Cost is $74 USD per site per year with other price plans available.
Modern Events Calendar
There is a lite (free) and a paid version of Modern Events Calendar.
It stands out for having 40+ different layouts for showing events and calendars so if you're not a graphical designer or need the events to fit your brand or style of website.
The UI is clean and easy to use in the front and back-end.
You can extend the MEC with addons, like WooCommerce integration, event API, Elementor widgets etc, prices ranging from $15 to $99 USD single purchase for an addon bundle.
The pro version of the core plugin https://webnus.net/modern-events-calendar costs $79 USD per site per year with other payment options available
There is a promise from the developer that you can port events over from any other event management plugin into MEC.
WooCommerce Bookings
If you already have a WooCommerce system in place and want to branch out to sell your time, the WooCommerce Bookings plugin may be a great option for you.
This plugin leans heavily towards the appointment/meetings/selling time slots side, rather than event management.
You can book one-on-one appointments or multi-person events.
You can set the minimum and maximum number of participants: limit a booking to one-at-a-time for appointments or let multiple people reserve a class or tour.
There are options to block out time and set a buffer period if you know there will be multiple back-to-back appointments.
As an ecommerce extension you have lots of payment controls such as taking deposits, early-bird offers, higher rates on weekends and special prices for kids.
Bookings can automatically be synced to your Google calendar.
Cost is $249 USD per site per year.
EventOn
The last events plugin I wanted to talk about is EventOn.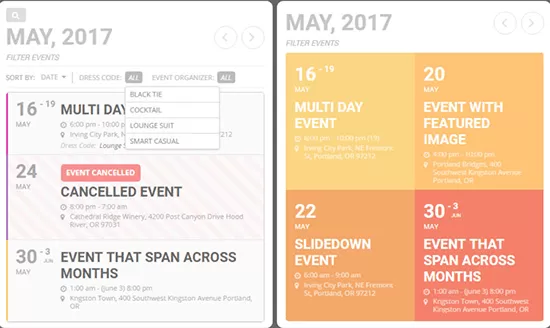 This is a premium plugin available from Codecanyon,priced at $50 USD per site per year. 
There is a demo site where you can play around with the plugin.
The plugin stands out for its modern and stylish display options – something you may like if you are looking to brand your events differently.
I especially like the card-like style you can display events with.
You can host physical or virtual live events easily with EventOn and it has some neat features like a live progress bar with time remaining and integrations with Zoom.
You can embed booking forms and pretty much everything easily using shortcodes and it comes with full RSVP, ticketing and all the stuff you would expect to handle events online.
Integrations with other systems like WooCommerce are available with paid addons ranging from $15 to $350 USD for the essentials bundle.
This is a great plugin to start with if you are planning to sell lots of live events.
Conclusion
That's my round of of the best and some interesting WordPress event plugins.
I personally like and use Amelia.
There are of course heaps more – let me know in the comments below if you swear by one that I haven't mentioned.
#WPQuickies
Join me every Thursday at 1 pm Sydney time for some more WPQuickies – WordPress tips and tricks in thirty minutes or less.
Broadcasting live on YouTube and Facebook.
Suggest a #WPQuickies Topic
If you have an WordPress topic you'd like to see explained in 30 mins or under, fill out the form below.
https://forms.gle/mMWCNd3L2cyDFBA57
Was this article helpful?