Local in-person Australian WordPress meetups should start to kick off in 2023.
I've missed attending networking events over the past few years, and if we can believe experts, there are signs the covid pandemic is starting to ease here in Australia.
Dust off your notebook or note-taking device, give your Zoom account a rest and get yourself off to a local networking event and meet people.
Here are my ten tips to help you get the most out of networking at any meetup event.
1. Research the Event
Before you rock up to the event, research the topics, the organisers and the speakers to familiarise yourself with everything.
Most event apps will show a list of attendees as well as speakers and organisers. You can do a bit of research
This can help you come up with great questions and introductions.
2. Connect With the Organisers
Event organisers are usually pretty well connected and seasoned in whatever topics the event cover. Connecting with the organisers on social media may be worthwhile to hear what they say and get to know them before the event.
Ensure you engage with your connections in a friendly and human way and be respectful of others' points of view, even if you disagree.
3. Set Targets
What are you going to the event for? Are you there to increase your network connections, make a specific connection, ask questions, learn about the topic, or maybe it's just a social exercise to get out of the house?
Knowing why you are attending an event will help you focus on the essential areas to ensure you get the maximum benefit from the event.
4. Prepare Yourself
Now that you know your targets for the event, you should prepare yourself and what to bring.
Here are some everyday items you may want to prepare and bring to meetup events:
A brief personal background: nobody wants to hear your epic story from primary school to the present day. Keep it short.
Your elevator pitch: one or two sentences that summarise what you offer and to whom.
Business cards: yes, people do share physical business cards.
Notepad: to take notes!
Laptop or tablet: Take notes, follow link resources, show people what you do, and outline any issues you have.
LinkedIn App
Tip: If LinkedIn is one of your primary social media channels, ensure you use the QR code directly on the phone app to create connections. You can show people your QR code or scan other people's QR codes.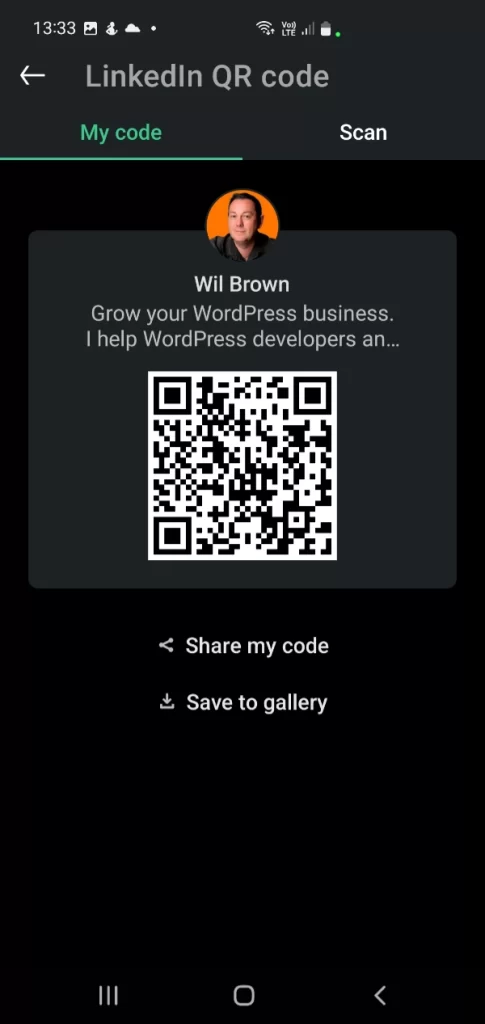 5. Arrive Early
Most events allow some time before the main talks to network with other attendees. If you arrive 10 mins early, you can network with specific people.
Don't rush away at the end, as most networking events also have some time at the end for networking as well.
6. Introduce Yourself To the Organisers
When you arrive at the event, locate the organisers and introduce yourself. If you've been stalking following them on social media, introductions shouldn't be awkward, and you'll have some common interests or topics to share.
7. Network With People
Keep initial conversations short if your target is to network with as many people as possible.
8. Ask Questions & Provide Feedback When Appropriate
It's great to engage with the speaker and the attendees, asking questions and providing feedback. Make sure it's at the appropriate time and that what you ask or provide feedback on is valuable.
Most speakers will let you know whether to ask at any time or wait until the end of the presentation or talk.
While it's awesome that you are engaging, try not to overdo it. I've been at plenty of events as a speaker and an attendee when that one person has an opinion on every single point. Not just an opinion; a 10-minute soliloquy. 🦜
Don't be that person.
9. Don't Sell Your Services Directly
Events and meetups are primarily for building your network of creative peers. It's not (usually) the correct time to pitch your wares.
Most likely, people will ask what you do, and it's entirely appropriate to give them your elevator pitch and expand more during the conversation.
Sometimes somebody is looking for the service you provide – that's amazing if it happens, but don't force the issue.
10. Follow Up After the Event
The best part of attending events and meetups is gathering a new network of connections.
After the event, ensure you follow up with everyone you've connected with. Follow them on social media, comment and engage on their posts.
Some of these people may just be your next client, business partner and life-long friend.
WordPress Sydney Meetup
We started the in-person monthly WordPress Sydney meetup group in Feb 2022 and will keep this going throughout 2023. Here are some pics from the events.
Was this article helpful?