In this lunchtime #WPQuickies, I'll be sharing my tips to increase your website's organic traffic.
What Is Organic Traffic?
Organic traffic is the free results you get from the search engine results pages.
We're not talking about those paid ads that appear at the top and sides of the search results pages, just the free stuff.
Why is organic traffic worth bothering about?
It's free!
Here are my tips to help you increase organic traffic to your website.
Optimise For Niche, Not Search Engines
My top rule to increase organic traffic is to write content for your niche and target audience.
Forget about search engines.
Write as if you were directly talking to one of your target audience members.
Have a conversation with them.
Search engines (I mainly mean Google due to its dominance), prefer content that appeals to human readers, not churned-out keyword-laden content that hits some SEO scorecard.
You should have created at least one buyer persona (ideal customer avatar) of the ideal person who is going to want to buy your product or service.
A buyer persona should have items such as gender, age-rage, marital status, kids, education, job industry, occupation, geolocation, social media habits, financial status, likes, dislikes etc.
If you are writing content and haven't created at least one buyer persona, then stop right now and create one, otherwise, you are just wasting your time and money.
When you write content, tap into the main issues of your personas and the keywords they use in search queries.
If you write to please your buyer personas, search engines will also like your content.
Blog Regularly
Having a content schedule allows you to build up great quality personal-focused content for your website.
The more content you have on your website, the more opportunities there are for increasing your search visibility.
Dynamically changing websites generally rank better than those left to stagnate over time.
Write Better Than Your Top Competitors
Most of the SEO tools like AHrefs and SEMRush will allow you to perform competitor analysis, to see who's top-dog for particular keywords.
Have a look to see which content they rank high for, then if appropriate, write your own unique content on the topic filled with more useful and up-to-date information.
Find out which sites link to your competitors' top pages and send them an email with a link to your super-charged article asking them to link to that instead.
You can perform this trick on any keywords that you are looking to rank highly for, regardless of whether or not the ranking website is a direct competitor.
Just Google the keywords, look through the top five ranking articles and write your own combining the best of all the articles adding extra value.
Add Podcasts and Video
Podcasts and video are being consumed at a rapid rate, well ahead of written blog posts.
If you can, create a podcast series or record a series of short videos to post on your website.
Remember to keep the length of your podcasts and videos to 20 mins or under and also include the written transcript underneath so that the search engines can pick up on the conversation and keywords.
If transcribing videos is too time-consuming for you, there are plenty of online services that can do it for you, like https://www.rev.com/
Optimise For Google Core Web Vitals
Google Core Web Vitals are a set of metrics that measure the usability and speed of your website.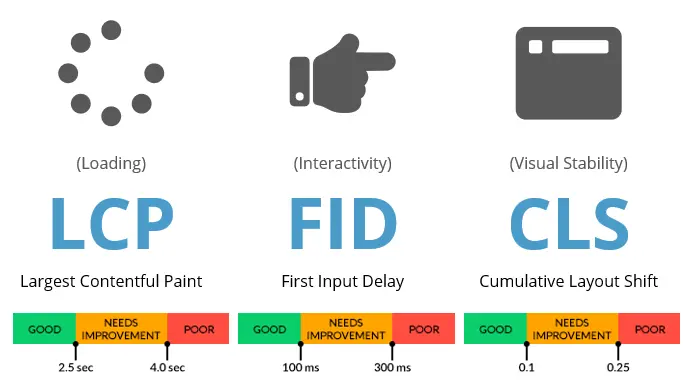 Google says it's part of their core algorithm so you should take notice and make sure your website complies.
Don't spend too much time trying to get a perfect score, just make sure your website is in the green zones.
I talk about Google Core Web Vitals in my WordPress Sydney talk https://www.youtube.com/watch?v=OcMizcVjlZg.
Nail Your Technical SEO
Technical SEO is the process of making sure that the technical parts of your website are in place so that search engines can index your website.
For technical SEO you should be focussing on website speed, usability, navigation, titles, keywords and content structure.
Make sure that other issues aren't stopping your site from being indexed like a faulty robots.txt file, not using SSL, duplicate content or 404 links.
Sort Out Your Internal Linking
Talking about links, please make sure that your site makes good use of internal linking, after all, it's the only way that Google can crawl your site and build an index.
Other than your time, internal linking doesn't cost you a cent and can boost your SEO tenfold and more.
Define your pillar content and feed off to related articles.
If you use the pro version of Yoast SEO, it comes with an internal link suggestion tool showing you content it thinks could relate to the current post.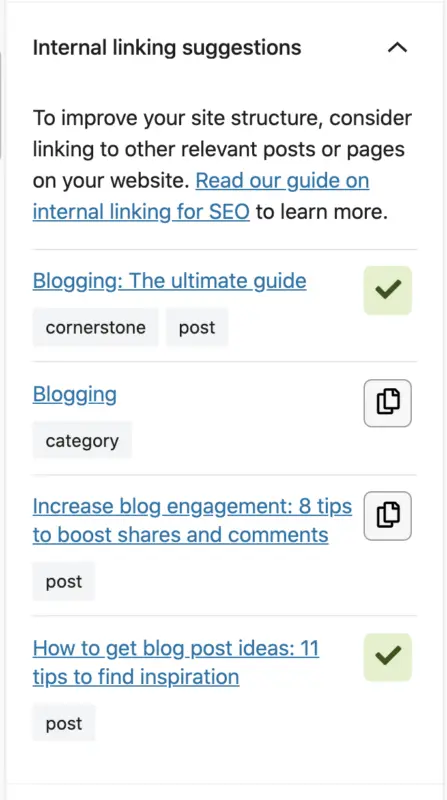 Optimise Existing/Old Content
What pages are coming up on the second page of SERPs?
How can you add value to those pages to push them up to page one?
Are they out-of-date or have some new features been added that you can write about?
What do the articles on the first page of the SERPs have that your content is missing – can you use them to improve yours?
Optimise For Image Search
Image search is huge and while you may not be in the business of directly selling images, any that appear in Google SERPs can really boost your SEO.
Some image tips are:
Adding your keyword to the image filename.
Making sure the title and the alt attribute is set.
Using relevant images within the proper context of your articles.
Adding relevant captions.
Remove Toxic Links
Links to trashy websites can pull down your ranking factors, just as easily as popular websites can boost your rankings.
Any decent SEO software will give you a report on backlinks to your website along with a PR value.
Remove low PR toxic links from your website using the disavow tool in Google Search Console.
Summary
What are your top tips for growing organic traffic to your website?
Answer in the comments below.
#WPQuickies
Join me every Thursday at 1 pm Sydney time for some more WPQuickies – WordPress tips and tricks in thirty minutes or less.
Broadcasting live on YouTube and Facebook.
Suggest a #WPQuickies Topic
If you have a WordPress topic you'd like to see explained in 30 mins or under, fill out the form below.
https://forms.gle/mMWCNd3L2cyDFBA57
Watch Previous WPQuickies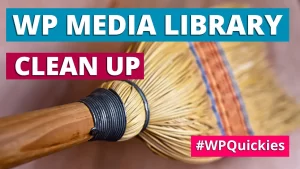 Clean Up WordPress Media Library
Was this article helpful?