Manage your self-hosted WordPress website on the official WordPress app. Here's a guide to what you can and can't do with the WordPress mobile app.
WordPress On the Go
I was on holiday a couple of weeks ago which got me thinking about being able to access WordPress on the go, specifically with the WordPress mobile app.
We're all busy creatures and usually on the move, sometimes without access to laptops, but we all carry our mobile phones wherever we go.
So what can and can't you do with the WordPress mobile app?
The WordPress Mobile App
The WordPress mobile app is available on Google Play and Apple App Store.
On your mobile device navigate to https://apps.wordpress.com/mobile.
I have a Samsung Galaxy running Android.
The WordPress App has a 4.5-star rating out of 185K reviews and over 10M downloads. That's pretty impressive.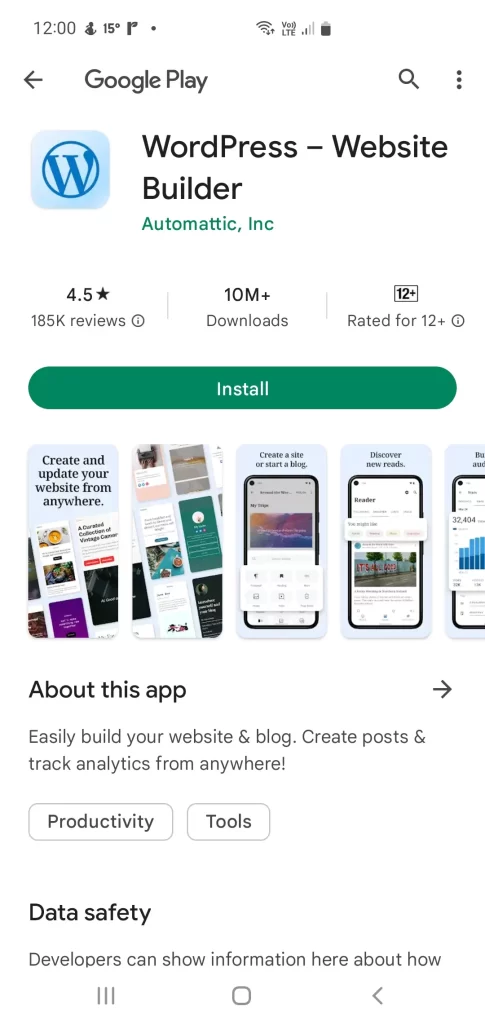 Once the app is installed you'll have the option to login to WordPress.com or enter the URL or your self-hosted WordPress site which is where our focus is today.
In order for this to work, you will need the XML RPC service to be enabled, which it is by default.
Once you have entered your website URL you'll be asked to enter your username and password and any other login information required (like 2FA).
Lastly, you'll be taken to the screen shown on the RHS where you can select your site. "ZPD Demo" in this example. Click on the site to open it up.
Managing Your Website on the WP Mobile App
The mobile app interface is a simplified management overview version of your site.  
You don't have any specific theme or plugin menus.
The options are Stats, Posts, Media, Pages, Comments, Plugins and Site Settings.  Then there are links to the web page for the front-end and admin of the site.
The mobile app is still very focused on WordPress' origin as a blog.
You can see a list of your posts, pages and your media files, although categories and tags views seem to be missing from the mobile interface.
The mobile app was unable to load in my installed plugins and just presented a list of plugins to install from the wordpress.org repository so that was a bit disappointing.
The Settings option was very basic and didn't reflect the site settings that you would have on desktop.  I did find the toggle to switch between classic and block editors in this screen.
Editing Posts and Pages
Editing a post or page is relatively easy and the mobile app is fully block editor compliant.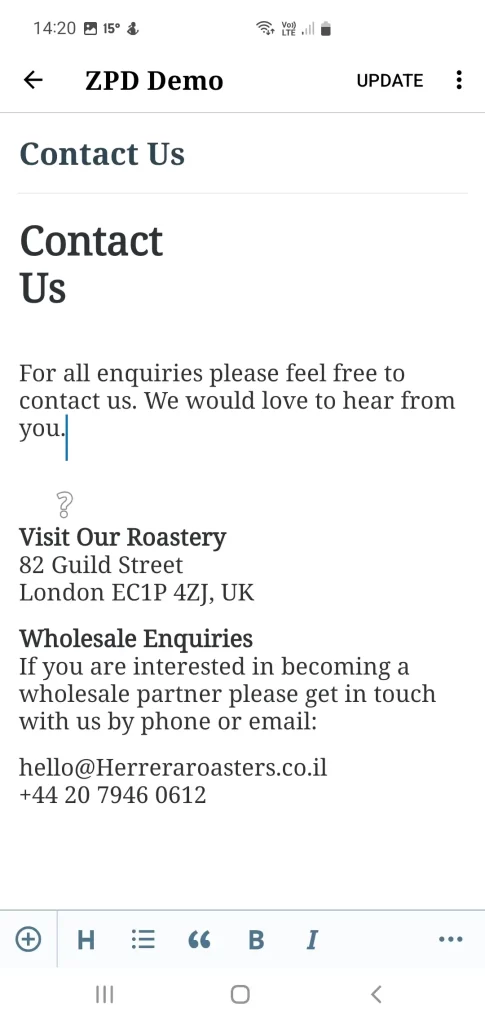 You have access to all the core blocks.  I've added a button to this example page and changed the background colour very easily.  The block interface is somewhat easier on mobile than it is on the desktop as all your settings appear in the same place at the bottom of the device.
Other Features
Some mobile features such as Stats and Notifications require you to install and setup Jetpack on your site.
I wasn't really sure what the Reader feature did. It seems to be a syndication of popular posts across sites, maybe?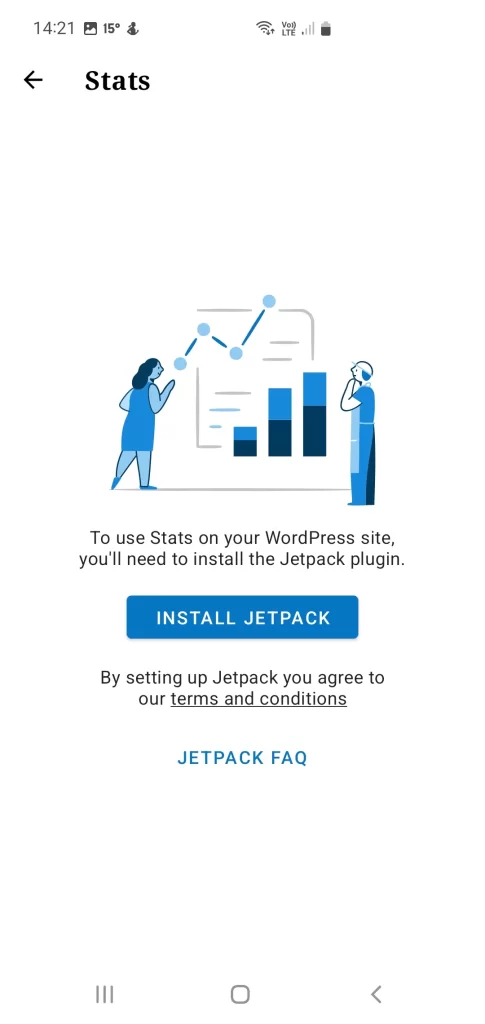 Desktop App
There is also a WordPress desktop app for Windows, Mac and Linux but I didn't test that one out.  I figure that if you've got access to a laptop of desktop computer then you'd want to use the proper WordPress admin dashboard and not be limited by an app that has to go through WordPress.com for access to all features.
WooCommerce Mobile App
There is also a separate WooCommerce mobile app for managing WooCommerce stores but I didn't test that out.  Maybe I will for another WPQuickies.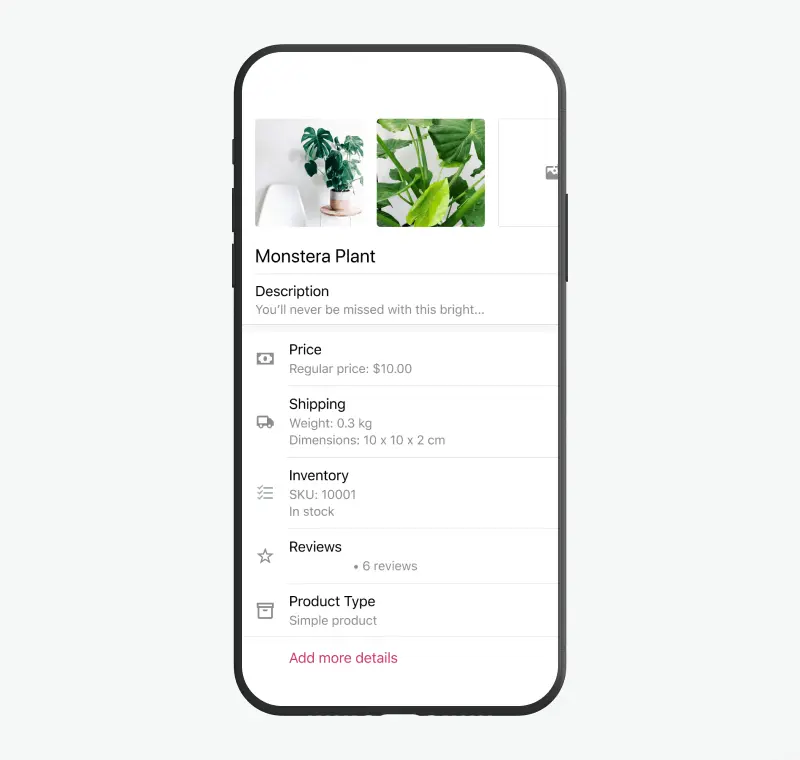 Summary
That's my tour of the WordPress mobile app for Android. It's limited to be sure and some features requires Jetpack to be installed and configured through WordPress.com.
For me the mobile app is a last resort backup that I'd use in a complete emergency to update content on a page where I didn't have access to a desktop, laptop or tablet device.
#WPQuickies
Join me every Thursday at 1 pm Sydney time for some more WPQuickies – WordPress tips and tricks in thirty minutes or less.
Broadcasting live on YouTube and Facebook.
Suggest a #WPQuickies Topic
If you have a WordPress topic you want to see explained in 30 mins or under, fill out the form below.
https://forms.gle/mMWCNd3L2cyDFBA57
Watch Previous WPQuickies
Was this article helpful?