Backing up your WordPress site is uber critical, but there are so many choices. So, what are the best WordPress backup plugins to use in 2019?
Before we get the WordPress backup plugin reviews, let me answer a few common questions I get asked about WordPress backups.
Or, you can jump directly to the plugin reviews.
What Stuff Do You Need to Back Up?
A WordPress website consists of a collection of files and a database where content and settings are stored.
Most people are familiar with archiving (zipping) files for backups and transfer onto USB sticks.
The database usually freaks people out though.
What is the WordPress Database?
WordPress stores most of its user-generated content in a database.
Databases consist of tables and in these tables are rows of data.
WordPress stores and retrieves data from the database using a language called SQL.
You can export the entire database or individual tables to SQL text files.
Then you can re-import those files back into the database to populate the data again.
That means the database is no more than a different type of a collection of files.
Easy to back-up.  That's good news!
How Often Should I Backup My Data?
I would suggest that you back up your site, as a minimum, every day.
You need those backups in case something goes wrong, data corruption, user deleted content or a security breach, so those files need to be at hand.
If you have a very busy website such as an e-commerce store or a membership site where critical content is updated often during the day, then perhaps you should be backing up in real-time.
The choice of the backup schedule comes down to the question "How much information are you willing to lose between backups?".
Where Should I Store My Backups?
Do not store your backups on the same server that your website files are on.
The whole point of having a backup is that it is a reliable store of your critical data.
If you store your backup on the same server as your website that has been hacked or has a corrupted disk drive, can you trust that those backups have not also been compromised or corrupted?
Will Backups Slow Down My Website?
Technically, yes.
Anything that runs over an extensive collection of files or data in the database is going to slow down the server running your website.
However, backup plugins have evolved, and most will run backups in batch modes to minimise server resources.
Seriously though, you need to be backing up your website so just take that as a given and move forward.
How Do I Choose the Best WordPress Backup Plugin?
Great question!
With so many backup plugins out there, you need to qualify which ones are the best for your situation.
Here are the essential features that your backup plugin needs to have:
Backing Up the Database
As mentioned above, the WordPress database is critical.  Without it, your website is gone.
Backing Up All Files
Some backup plugins only back up "WordPress files".  So, those in the "wp-content" folder where all your uploads are stored.
In my opinion, you need a backup plugin to be able to back up any files you select, even those outside the WordPress structure.  You may have client documents, marketing material or anything else stored in folders outside the regular WordPress uploads.
Scheduled Backup
The backup process needs to be scheduled.  You don't have time to waste manually logging in and starting a backup.  What happens if you forget to do it?
Backups need to happen automatically.
Backup Location
You should be able to choose where you want the backups to be stored.
This could be on the service's cloud server, Dropbox, Amazon S3, Google Drive, Backblaze or sFTP to another server you own.
Active Installations
If you are downloading a free backup plugin from WordPress.org, check out the number of active installations to see how popular the plugin is.
Last Updated
Similarly, on WordPress.org, look at the last updated date to make sure that the plugin is actively being maintained.  If a plugin hasn't been updated in over a year, I recommend you stay away from it.
Now, let's look at what backup plugins are available.
VaultPress (Now Jetpack)

VaultPress is one of the sturdiest and trustworthy backup plugins that you can use.
It is a premium (paid) plugin authored by Automattic – the same people who run WordPress.com.
VaultPress gives you daily or real-time backups of your site.
Backups are encrypted and stored in the VaultPress cloud servers largely located in the USA.
This could be a GDPR issue if you have a site that actively sells products and services to European member countries.
To manage your backups, login to the dashboard where you can download zip files of the backups and database.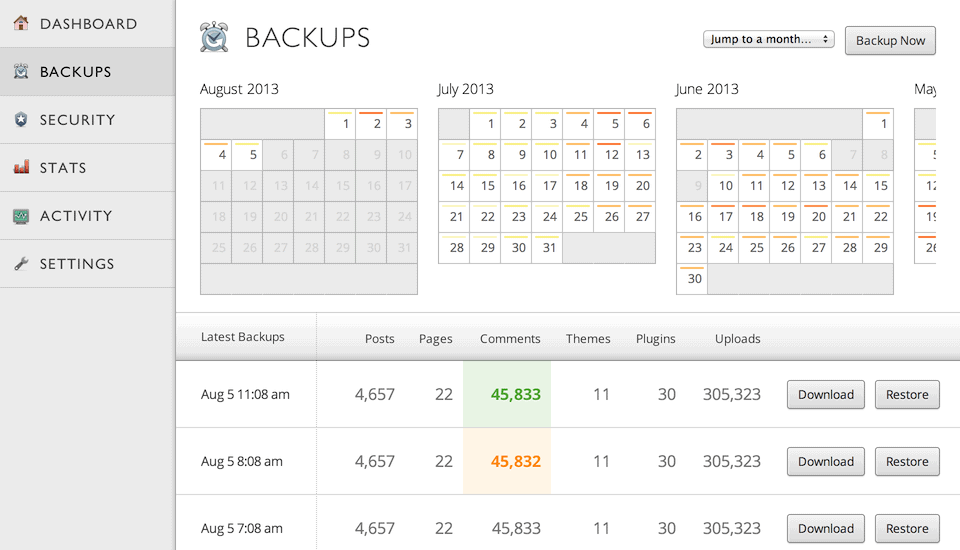 VaultPress also allows you to enter site login details, FTP, SSH, sFTP which will allow you to restore files directly to the production server.
You can restore everything, themes, plugins and even individual database tables without any technical knowledge.
VaultPress has recently been moved into the Jetpack plugin, so to use it you must install Jetpack, then connect your site with WordPress.com and purchase either a personal or a business plan.
VaultPress has been my go-to backup tool for several years now, however, now that it's part of Jetpack I have to review whether it is still the best option.
UpdraftPlus

UpdraftPlus is probably the most popular backup plugin because its free version is packed with a lot of features, generally reserved for premium plugins.
Unlike a lot of backup plugins that just back up your files, UpdraftPlus also restores them.
Restoring files from backups requires no technical knowledge.
The plugin authors claim to be the fastest backup using fewer server resources, but I couldn't find any stats on their website to back that up.
The free plugin backs up to Dropbox, Google Drive, FTP, Amazon S3, Rackspace and Email
The premium version additionally backs up to WebDAV, Microsoft OneDrive, Google Cloud, Microsoft Azure, SFTP/SCP, encrypted FTP, Backblaze.
3. BackWPUp
BackWPUp is another great and popular plugin that backs up your site and database to a remote location such as Dropbox, Amazon S3 or elsewhere via FTP.
You can schedule backups with the free version.
There is no restore function with the free plugin version, so unless you have the skills to restore a WordPress website from backup files, you will need to pay somebody to do that.
The Pro version includes more remote backup locations, the restoration feature and encryption of the stored files.
A great feature of the premium version is it allows for multiple remote locations per backup.
4. Backup Buddy

BackupBuddy is one of the longest standing premium plugins for WordPress.
There is no free version of this plugin.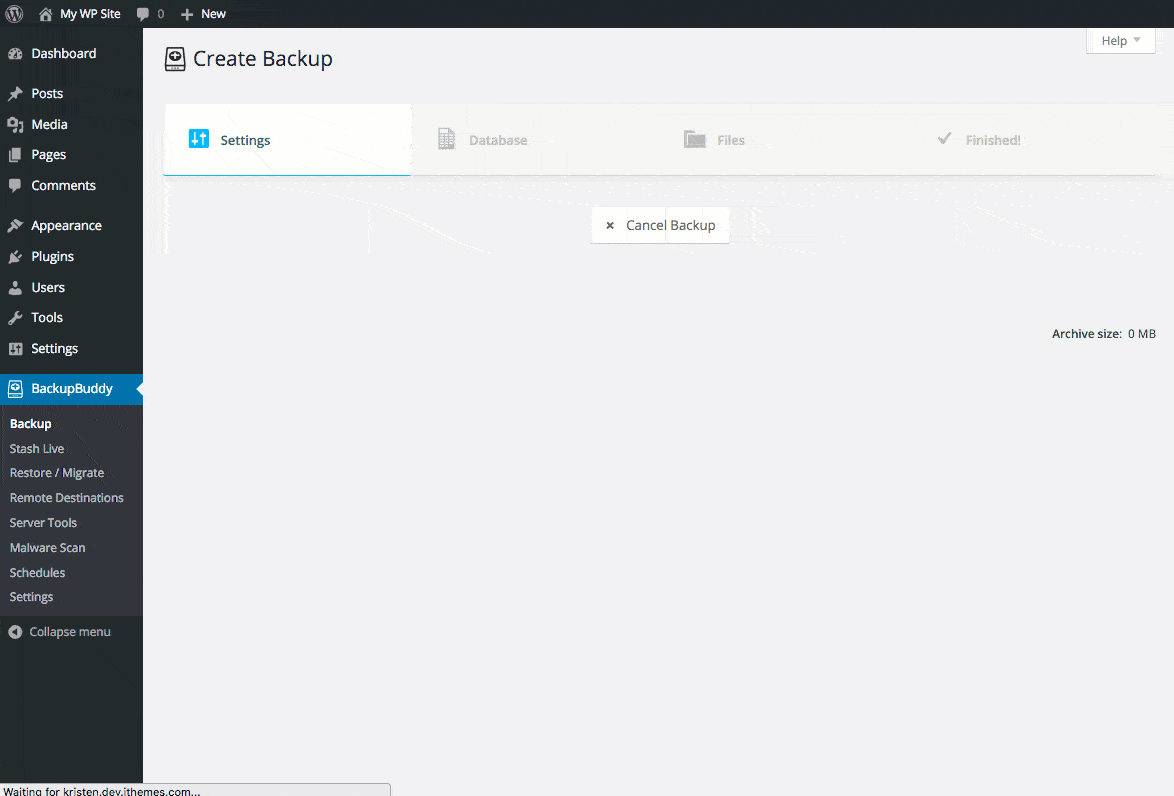 Restoring is simple to do and requires no technical knowledge.
Rather than have a monthly subscription, BackupBuddy has a fixed price for some sites in whichever plan you purchase.
You can purchase plans to cover one site, ten sites or unlimited sites.
BackupBuddy used to store backup files on your web server machine which is a really bad idea, as well as remote cloud services such as Dropbox.
Version 7 and above have the option to store real-time backups in the BackupBuddy cloud servers, similar to VaultPress.
5. BlogVault
BlogVault is used by a large number of hosting companies to perform backups and site migrations.
If a major hosting company is using this plugin as part of their backup system, then it is worthwhile checking out.
There is no free version of the plugin. However, they do offer a, no credit card required, seven days free trial of the full plugin.
The pricing page offers several packages, all billed monthly, giving you more features and more sites depending upon the higher the plan that you choose.
BlogVault's stand out feature is they supply a free staging site.
They too claim to be the fastest and most reliable backup and restore solution, requiring no technical knowledge.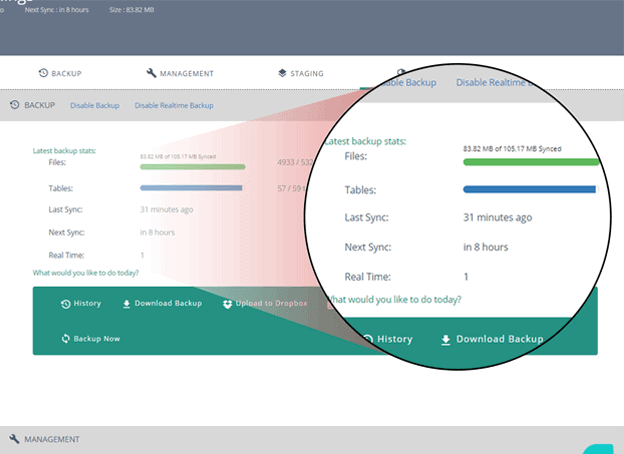 A staging site is a copy of your production (live) site that you can test, play around with and make updates before doing the same on the production server.
The "Basic" and "Plus" plans offer daily backups, with "Advanced" offering real-time backups.
6. WP Time Capsule
WP Time Capsule's unique feature is that, after the initial one-time full backup, it only backs up the changes you make.
This does save a lot of time and bandwidth; however, if you have any files outside of the normal WordPress installation, they won't get backed up with this plugin.
You can back up your files to Dropbox, Wasabi, Google Drive or Amazon S3.
To get the service working you need to register an account on the WP Time Capsule website.
Then you choose to connect your plugin to one of the remote cloud services.
It's a very different setup to the other backup plugins.
The reason for this method is that WP Time Capsule uses the native versioning controls of the remote cloud sites (Dropbox for example) to perform the incremental backups.
7. XCloner – Backup and Restore
XCloner used to be my go-to backup plugin.
As the name suggests, its primary purpose is to clone a WordPress website, but it does a very good job of performing backup too.
My favourite part of this plugin is that the developer supplies a backup script that you can call from a server cron job.
Why is that important?
Well, the WP Cron scheduler is a real pile of pants.
It's not a real scheduler and only runs when there is traffic on the site.
So, if you have a small site, WP Cron may never work which means no scheduled posts and more worryingly no backups!
Server cron jobs always run!  They are a proper scheduler, and you can create and update these jobs directly from cPanel, so your backups will always work.
XCloner has very good documentation to walk you through its functionality.
The backup restore interface could do with some user interface love; some plugins provide a much better UI experience.
This is more of a tool to perform backups to cloud storage systems where you are comfortable downloading the backup file and restoring them manually yourself should you need to.
Backups can be encrypted, and there are a wealth of options for controlling the what, how and where of the back process.
Very good for a free plugin!
8. BackUpWordPress

BackUpWordPress was originally authored by premier WordPress agency Human Made, but who have since transferred ownership over to XIBO Limited.
It is a rather simple backup plugin that stores a zip file on your web server, which is not ideal.
There is an option to email the backups to an email address.
This is never a good idea especially with large backup files; this will result in email rejection and your spam folder filling up!
The plugin is, however, free.
9. Duplicator

Duplicator is a free plugin that allows you to migrate a WordPress website to a new location.
It also acts as a backup and has a large user base of over one million active installations.
The downside to Duplicator is that there is no automatic scheduling, which does make it fall far short of the other backup plugins reviewed on this page.
Which Plugin Is Best For You?
That's really up to you, your experience, how much you want to pay and what features you need.
If you had asked me a few months ago, I would have hands-down recommended VaultPress.
Now, after reviewing the competition, and VaultPress' dependence on the Jetpack plugin, I'm not 100% sure it's the best solution for me.
UpdraftPlus is looking to be a very strong contender for me to review more closely for my business needs and I'm also intrigued to find out more BlogVault and why so many top hosting companies choose to use it.
I may write another post doing a deep comparison of the two backup solutions at a later date and let you know which one I end up using for my business.
This post expands on the Backups step I outline in my 14 Things You Must Do Before Launching Your Website article.
Have I missed out your favourite backup plugin?
Let me know in the comments below.
Was this article helpful?